THE PINK DIAMOND REVUE 
The Port Mahon Oxford 
The Pink Diamond Revue similarly are a battle between humanity and something 
more synthetic. Even the trademark ongoing onstage conflict-come-love-affair between guitarist Tim Lane and the mannequin Acid Dol takes on a sinister edge as he nudges 
her askew with his guitar or adjusts her shades between tracks. Musically and visually too The Pink Diamond Revue are a constant war between a golden age of American rock'n'roll and a dark, dystopian future. "We're not a rock and roll band" intones the narrative over the duo's signature tune. No, they're something far more potent: a simply magnificent spectacle – all militant, monolithic beats, serrated acid-surf guitars, snatches of arcane narrative and sirens. Lane himself often resembles a Teddy Boy re-imagined by a malevolent future AI and you can imagine this music acting as the perfect backdrop to apocalyptic cinema. 
So, while half of humanity is tucked up at home celebrating the cream cheese of Europop, we select few are immersed in the battlefront of mankind and machinery's glorious battle of music's soul. And that's our kind of party. 
Dale Kattack 
June 2023
http://nightshiftmag.co.uk/2023/jun.pdf
"

Wholly instrumental, wonderfully disconcerting, completely effective" - David Stubbs
— Live show review at The Book and Record Bar , Norwood 6th May 2023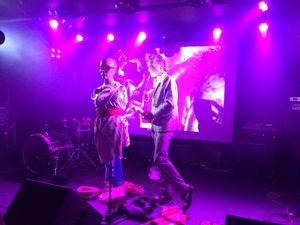 Bio
THE PINK DIAMOND REVUE 
''An audio-visual cinematic masterpiece more than just a live band, The Pink Diamond Revue symbolise the spirit of the Vapour Trail with their sexy electro-psychedelia. Fronted by a genuine mannequin. Surreal samples, stuttering guitars and renegade rhythms before hypnotic visuals all collaborate to create a world where Kraftwerk meet sex and you find love.''
The Vapour Trail October 2018
 The band have played over 300 live shows in the UK and Europe since forming in 2015
The Pink Diamond Revue  are a 3 Piece Electro/ Dance/ Psych band fronted by Acid Dol, a model from another dimension. 
 The bands live shows have had many different comparisons but most mention the bands ability to combine their music with the visual images they display behind them , to produce a show with a massive crossover appeal.