The Pink Diamond Revue headline Roystunbury Festival July 2022 - SOLD OUT
The Pink Diamond Revue engage me immediately. This is drums, electric guitar and backing tracks, oh and a mannequin that has her attire changed regularly by the guitar player. They play in the gloom against a back projection that is constantly shifting, shapes and colours evolving and always changing, hypnotically so. The whole effect is pretty wonderful and keeps me watching. The music is psych sounding, repetitive, sometimes hardly there sometime like an adrenalin rush of guitar. The whole effect is unsettling yet vivid and entrancing. Golden Lion. Todmorden - 19 August 2022 review by The Last Stop Sounds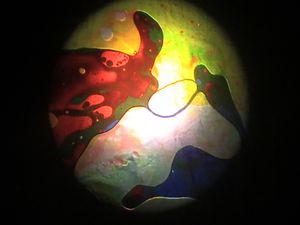 "

A world where '60s film soundtracks meet sampladelic acid house somewhere in the Interzone. "
— Gappy Tooth
"While early afternoon South Park bathes in sunny intervals, THE PINK DIAMOND REVUE bring some subterranean darkness, metronomic beats underpinning Tim Lane's acid-surf guitar squalls 
and disquieting disembodied narratives about death row final meal requests and incantations about not being a rock and roll band. Lane's casually menacing demeanour and lack of communication beyond a thumbs up at the end of each track, as well as a set- long battle with the armless torso on stage alongside him makes the duo the most strangely brilliant band of the weekend, a feeling confirmed by the stage manager's enthusiastic praise after the show."
Nightshift Oxford
It's fair to say that these guys are unique and once seen, never forgotten. Eccentric? Positively! Captivating? Affirmative! Enjoyable? Definitely! 
It's fair to say that The Pink Diamond Revue an electro-amalgam of 1987-89 'Music For The Masses' era Depeche Mode; the electro-psych vibe of TVAM; 'Peter Gunn' flavour Art Of Noise; the sound and poses of Sigue Sigue Sputnik and lashings and lashings of Sheep On Drugs imagery and sounds that the likes of Marc Almond would adore. 
The Pink Diamond Revue line-up consists of two contrasting guys fronted by the top half of a female mannequin known as AciD dol, that they may or may not be obsessed with! 
We have the London and Reading based, smartly suited, gum chewing, distant-vacant staring, guy liner wearing, chisel-edged featured 'Thin White Duke' era Bowie lookalike in the form of guitarist Tim Lane, and he is accompanied by Reading based t-shirted drummer Rob Courtman Stock. Clearly there is a Pet Shop Boys or Soft Cell type of clashing personalities going on here, with one being extroverted (in the style of Neil Tennant and Marc Almond) and the other introverted (Chris Lowe and Dave Ball). 
Tonight, during their 37 minute set, which was backed by a stream of images projected onto the backdrop, Rob constantly drummed away with his red fanned drumsticks in the background, whilst AciD dol (who even has a song named after her) and Duane Eddy style guitarist Time Lane, took front of the stage. They were both animated, one with the assistance of the other. One had absorbed the essence of mid 70's David Bowie meets Martin Fry (ABC) with guyliner at a tattoo parlour, and the other donned shades and hats and moved via the assistance end of the head of the guitar.
There was no need for a microphone, as there were no lyrics, just an onslaught of guitar riffs that Neil X (Sigue Sigue Sputnik) would have been proud of. The only spoken material emanated from the cut ups that ran with the electronic backing. You can see what I mean by enjoying one of my fave tracks on the set, the all too brief 'Go Go Girl' – watch the official video of the track HERE. Also of note were 'Miss Lonely Hearts' and 'At The Discotheque'. In fact there wasn't a dud track in their whole set. There was no interaction with those watching at home. The Pink Diamond Revue simply let their music do the talking. 
 A very enjoyable nine song set this evening. I would see them again live at the drop of a hat as they are currently one of my favourite bands!
By : Nick Linazasoro  Brighton & Hove News